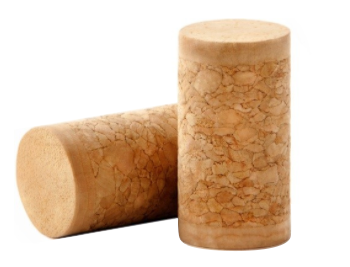 Amorim Twin Top® Cork
Amorim
The Twin Top® is a technical cork stopper, based on the technology behind the production of the champagne cork stopper. It meets the winemakers' highest demands while retaining all the benefits of a natural cork stopper in terms of sustainability.
It is ideal for fruity wines and recommended for wines not intended for long bottle ageing. It comprises an agglomerated body and a disc of natural cork at each end.
The Twin Top® cork has shown an excellent performance in the cork comparative test developed by AWRI – Australian Wine Research Institute and in the permeability to oxygen analysis carried out by the University of Bordeaux 2.
It can be used on the same bottling lines as natural cork stoppers and it is especially suited for high-speed bottling lines.
Minimum Order: 1 Bag
Bag Quantity: 1000  pcs
Size: 44mm x 23.5mm
Interested in branded corks? Contact us at 844.482.9463 or email us at sales@wineandbeersupply.com for more info! 
| | | |
| --- | --- | --- |
| TESTS | CHARACTERISTCS | SPECIFICATIONS |
| Physical-Mechanical | Length | L ± 1.0 mm |
| | Diameter | d ± 0.4 mm |
| | Ovalisation | ≤ 0.3 mm |
| | Moisture | 4% - 9% |
| | Specific weight | 250 - 330 kg/m3 |
| | Extraction force | 20 - 40 daN |
| Physical-Chemical | Peroxide content | ≤ 0.1 mg/stopper |
| | Dust content | ≤ 3mg/cork |
| OTR (Oxygen Transfer Rate) | 12 months | 3.2 mg/stopper |
| | 24 months | 3.4 mg/stopper |
| | 36 months | 3.5 mg/stopper |