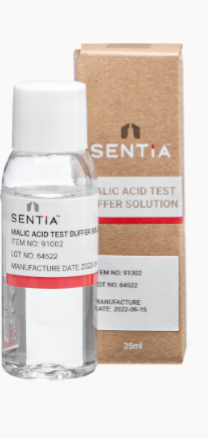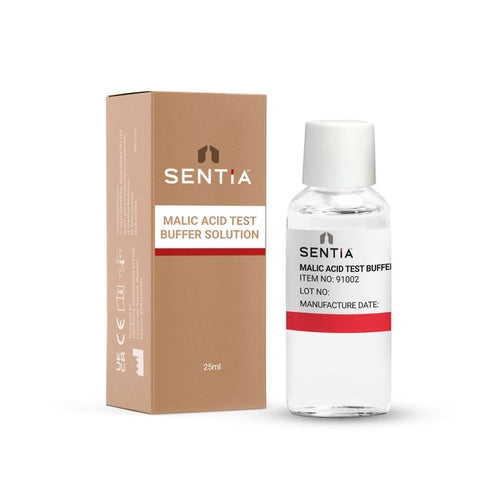 Sentia™ Malic Acid Test Strips Buffer Agent
Sentia
The ability to accurately monitor malic acid during malolactic fermentation is a crucial tool to prevent microbial growth and ensure wine stability. With Sentia™  it's never been easier. After a simple 1 in 5 pre-dilution with the Sentia™  Malic Acid Buffer, in less than a minute you'll have an accurate and reliable malic acid result.
This test must be performed using the specially designed buffer dilution to deliver an accurately pre-diluted wine sample for testing (Sentia malic acid buffer solution sold separately). For pre-dilution instructions, please review the info here. 
Sentia™ Malic Acid Test Strips work with your Sentia™ Digital Wine Analyzer to measure malic acid concentration in red or white wine. Sentia™ Malic Acid Test Strips make testing easy.
Needing only a single pre-diluted drop of wine with a convenient "porch" design for easy sample application, plus the added protection of built-in quality control checks, you can focus on what really matters: getting the results you need whenever and wherever you need them.
FEATURES
Test type identifier and ID number in rich color with easy-to-read font
Airtight 25-pack vial for easy storage and retrieval
Manufactured in a state-of-the-art ISO certified facility in Melbourne, Australia
Convenient white "porch" design to ensure consistent user sample application time after time
Ergonomic vial comes complete with 25 test strips, so you won't run out when you need them most
Only a single drop of pre-diluted wine required for your analysis
SPECIFICATIONS
Works with Sentia™ Analyzer (sold separately)
Measures malic acid levels in red or white wine:

measuring range: 0.05 to 5 g/L
sample size: at least 8 microlitres (a drop of pre-diluted wine)

When not in use your Sentia™ Malic Acid Test Strips must be stored in their vial inside a refrigerator
*Malic Acid strips and buffer agent sold separately.
Contact us at 844.482.9463 or email us at sales@wineandbeersupply.com for more info!