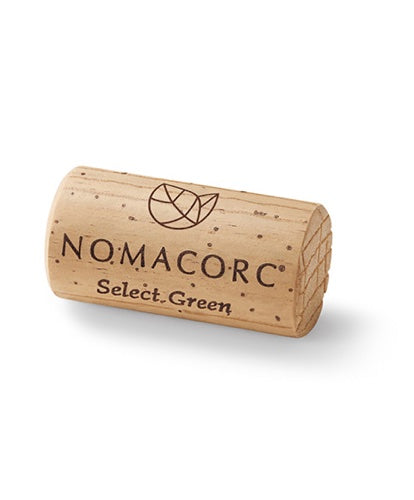 Nomacorc Select Green 300 Cork
Nomacorc
Select Green 300 uses Nomacorc's proprietary PlantCorc™ technology to provide an environmentally-friendly closure, superior performance and enhanced oxygen control. 
Characteristics
Consistent oxygen ingress rates
TCA-free — no cork taint
Premium embossed end treatment
Soft-feel is easier to grip and has a more appealing, softer tactile touch
Made from renewable, plant-based polymers
Created using 100 % renewable energy and recycled cooling water
Minimizes environmental impact by preventing spoilage and waste
from wine fault
Preserves wine for up to 10 years
Recyclable
Minimum Order: 1 Bag
Bag Quantity: 1000 pcs
Length: 44mm or 47 mm 
*Priced per bag
*Interested in branded corks? Cork logo branding included with orders of 25,000 or more. Set up fee of $150 for orders under 25,000.  
Contact us at 844.482.9463 or email us at sales@wineandbeersupply.com for more info! 
| | |
| --- | --- |
| | CHARACTERISTCS |
| Oxygen Ingress per Bottle | 1.6 mg of O2 After 3 Months 2.1 mg of O2 After 6 Months 2.8 mg of O2 After 12 Months 1.1 mg of O2 per Year, After first Yr |
| Carbon Footprint | -1 g CO2 eq per closure |
| Premium End Treatment | Embossed |
| Diameter | 23 mm |
| Length | 44mm or 47 mm |
| Weight/Closure | 4.8 g | 5.6 g | 5.9 g |
| Extraction Force | 200 N - 450 N |